by John Gatski
In the world of video and home theater, the Blu-ray player is the king of quality for video and audio, but for the audiophile, Blu-ray players (which are often universal players with DVD-A, SACD and linear PCM playback as well) can frustrate audiophiles. On many players, an owner discovers he can't get high-res audio out the SPDIF or TOSLink jack to his upscale DAC. DVD-A and Blu-ray PCM audio is inhibited by a BD player's internal copy-protect software, converting audio output from 24-bit to-16 bits and/or reducing the sample rate to 48 kHz.
For example, my

Oppo BDP-105
cannot play back a commercial DVD-A in full res from the SPDIF jack (the previous BDP-95 could). Nor can it output the stereo 24/192 tracks from my various Blu-ray music discs, such as 2L or AIX Records via the SPDIF. The audio is 16/48.
De-embedder to the rescue
But do not despair; I have discovered a useful gadget that is sold through many home theater accessories stores; it is called an HDMI audio de-embedder. The de-embedder enables high-res music fans to use their high-end DACs with certain BD/universal players. The DEs relay the high-res PCM stereo audio from commercial DVD-As, Blu-ray music discs, and DSD-to-PCM from SACDs from the player's HDMI output.
The HDMI de-embedder takes a player's HDMI audio stream, extracts the PCM stereo and routes it through its SPDIF output, TOSLink or RCA coax, which is then connected via cable to a digital input source — such as a DAC. The de-embedder also has an HDMI output pass-through jack that ensures audio/video compatibility with other HDMI input sources, such as a LCD, plasma, receiver, etc. The HDMI de-embedder was designed to maintain audio compatibility with devices that don't have HDMI connections, such as old receivers, etc. An HDMI de-embedder can also output surround Dolby Digital and the core DTS surround soundtracks via the SPDIF jack.
The de-embedder enables high-res music fans to use their high-end DACs with certain BD/universal players. The DEs relay the high-res PCM stereo audio from commercial DVD-As, Blu-ray music discs, and DSD-to-PCM from SACDs from the player's HDMI output.
The HDMI de-embedders range from a simple one-input HDMI unit to one with multiple HDMI inputs. Their outputs include SPDIF TOSLink and/or SPDIF coax RCA; some even have up to 7.1 channels of decoded analog audio output for Dolby, DTS and linear PCM movie soundtracks.
The de-embedders range in price from about $50 to a couple of thousand dollars for the more elaborate boxes that also incorporate an audio de-embedder.
For my intended use as a BD/universal player stereo HDMI audio-to-SPDIF PCM conduit, the de-embedder boxes examined here are priced under $300; my favorite was one of the lower-cost, simple HDMI digital in/SPDIF out units, Although two of the tested de-embedders sported multichannel analog outputs, I did not really cover that feature since the focus of the article was to get HDMI audio from a BD player to a high-end stereo DAC.
Editor's Note: The HDMI de-embedders that allow the stereo PCM to be tranaparently converted to SPDIF and passed out the digital port should not be used for copying copyrighted music. It is illegal to use accessory gear or modified source equipment to circumvent the copy protection embedded in Blu-ray, DVD-As, etc.
Choose your player wisely
In order to use an HDMI de-embedder with a Blu-ray player and achieve full-res signal transfer to your DAC, you must have a player that passes the audio via HDMI — without firmware copy limitations. Most Blu-ray players, especially the cheap ones, do not pass high-res audio through the HDMI, unless they see an encrypted signal from a receiving "handshake" device that tells the player to allow full-resolution audio output. This electronic "handshake" is a mandated code that was agreed upon by electronic manufacturers to prevent perfect copying of video and audio.
Receivers, TVs, preamp/processors are the more-common devices that allow that HDMI handshake for full-res audio (and video) to be transmitted from a BD/Universal player. Once the two components talk to each other through the digital handshake, Blu-ray music soundtracks, a SACD's DSD stream, or DVD-A music are delivered at full quality to the receiver or preamp/processor, which then routes the audio to the internal DAC.
If you try to use a handshake-compliant player and a HDMI de-embedder with your separate DAC, you will only get "dumbed down" audio sent to your DAC that ain't even close to hi-fi — usually 16/48. You could listen to 24-bit Blu-ray audio or DVD-As through a receiver, but that defeats the purpose of being an audiophile. Most receivers don't sound that good, and they will not pass full-res audio via their outputs to an external DAC either.
All Oppo players, since the BDP-80, can pass up to 24/bit/192 stereo PCM via the HDMI jack. The BDP-80, 83, 83SE, 93. 95, 103 and 105 all pass 24 bits through the HDMI, when using a de-embedder.
What about a dedicated audiophile DAC that has an HDMI input and supports the handshake protocol? The most talked-about, standalone HDMI DAC is the

Essence HDACC

, priced at $699, which has a plethora of inputs and playback to 24/192. Most DACs, however, still rely on a SPDIF, AES/EBU XLR or USB audio connection. Absent the Essence HDMI DAC, if you want to successfully use your BD/universal player with a non-HDMI outboard DAC, you need an HDMI de-embedder and a player that bypasses the handshake.
There are a few players that bypass the handshake protocol and allow the full-res audio signal to escape via the HDMI (and in some cases even the SPDIF). These are the machines the audiophile can use with their big-ticket DAC and an HDMI de-embedder, the subject of this article.
In my experience, the popular Oppo manufacturer offers the most digitally-open players on the market — in terms of an external DAC connection — and are a perfect mate for an HDMI audio de-embedder.
All Oppo players, since the BDP-80, can pass up to 24/bit/192 stereo PCM via the HDMI jack — without the aforementioned handshake. The BDP-80, 83, 83SE, 93. 95, 103 and 105 all pass 24 bits through the HDMI, when using a de-embedder. The Lexicon-badged version, the BD-30 is the same. The Oppo BDP-93/95 players can even play commercial DVD-As full-res from their SPDIF output. (The newer 103/105 players, however, can only transmit commercial DVD-Audio from the HDMI.
Wireworld Platimum Series Audiophile HDMI Cable
The new Marantz UD-7007 universal BD player also allows HDMI-transmitted, full-res audio from DVD-As and commercial BDs, as well as from data downloads. The Marantz also allows data media (USB, BD and DVD-Data and portable hard drive via USB) to play up to 24/192 PCM audio from the onboard SPDIF jacks, but not DVD-A. I also have confirmed that the latest Pioneer Elites and Yamaha high-end players support full-res, commercial DVD-A and data media full-res PCM audio output through HDMI and SPDIF, but no commercial Blu-ray audio output at full spec.
The set up
I tested four de-embedders for this roundup and used them, primarily, with an Oppo BDP105 — since its HDMI audio doorway is fairly open. I played selected music cuts from music Blu-rays: Ole Bull (2L), at 24/192 and The Who - Live at the Isle of Wight 1970, a concert movie Blu-ray with dedicated stereo PCM soundtrack at 24/48. I also used the commercial DVD-A of The Eagles — Hotel California, at 24/192.
I also played tracks downloaded from HD Tracks burned onto BD data, DVD data and USB 2.0 thumb drive. All HDMI de-embedders were measured on an Audio Precision digital signal test set to check SPDIF bit and sample rate transmission accuracy. All the units passed 24-bits, up to 192 kHz sample rate without error.
Each of the de-embedders was connected to a

Benchmark DAC2 HGC

with its handy, dandy word-length and sample-rate status display, which visually indicates what the player is outputting. The Oppo's HDMI output was connected to the de-embedder via a custom-made, 1 ft. length of

Wireworld Platinum Starlight Series

Flat HDMI cable. These Wireworld cables are extraordinarily transparent for audio and video. I use a 15 ft. version in my high-end home cinema setup. I used an MIT SPDIF cable to link the de-embedder and the Benchmark DAC.
Tested HDMI Audio De-Embedders
Where to Buy: (factory direc
t)
The Monoprice HDX401TA was the lowest-priced de-embedder that I tested, yet it contained numerous features including four HDMI inputs, HDMI throughput, TOSlink and SPDIF digital output jacks and an 1/8th inch analog stereo output jack. The price was so low I ordered two. Each unit comes with a mini-remote control so the operator can select HDMI inputs remotely, as well as mute the audio and select either 5.1 or 2.0 output from the SPDIF port. The 5.1 or 2.0 feature is for routing HDMI audio to a TV with only SPDIF audio input. If you select the 2.0 mode, the audio is sample rate limited to 48 kHz. Thus, if you use the HDX401TA as a stereo audio conduit via the SPDIF, the channel mode should be set to 5.1 to reliably relay the highest sample rates. Most de-embedders work the same way.
The manufactured-in-China, 6-inches long x 3-inches thick metal-encased, Monoprice, sports a 5V wall wart DC power supply for electric power. One HDMI input is on the front; three are on the back along with the HDMI pass-through. The two SPDIF jacks are located next to each other. One of the Monoprice remotes arrived dead on arrival, but the company kindly sent me a replacement, and I was back in business.
When I played The Eagles — Hotel California DVD-A into the Oppo, it initially did not pass 24/192, the native digital stereo signal of the disc. The Benchmark DAC2 HGC indicated 24/48. Huh? I quickly figured out that the unit was set to 2.0 channel output mode. When I switched the de-embedder to 5.1, the DAC's 192 kHz LED indicator was activated and I commenced my battery of subjective and objective testing.
Sponsored Link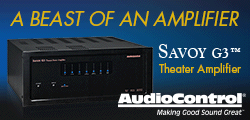 Audiophile A/V Multichannel
My 2L Blu-ray music also played through the de-embedder at 24/192 via the selected stereo track, as did all my Blue-ray data and USB data-stored, high-res tracks from my own home-brew recordings and HD Tracks downloads. The Monoprice has a lot of features for such a low price. However, it locked to the HDMI signal a little slower than the others. The remote was a mixed bag; it was so small I kept losing it. I did really did not like it, but it is the only way you can switch between 5.1 and stereo output
Measurement of the Monoprice digital signals confirmed its ability to transparently transmit 24-bit PCM taken from the HDMI signal and route it through the SPDIF jack in its native sample rate: my listening sessions confirmed full res as well.
Overall, Monoprice HDX401TA IS inexpensive and has a lot of features, but the mini-remote and slow lock time put me off a bit. Still, it passed transparent audio, once the signal was locked, and it does have both TOSLink and SPDIF output. For $43 bucks, it ain't bad!
Retail Price: $95.00 (as low as $65)
Where to Buy: Markertek, B and H Photo
The most compact of the HDMI audio de-embedders in my roundup, the KanexPro is effectively simple: an HDMI input, TOSLink and SPDIF RCA digital outputs, an HDMI pass-through, a 5.1./2.0 switch, and a DC 5V power jack for the wall wart. The designed-in-USA/assembled-in-China, KanexPro HAECOAX is sturdily built, and it became my favorite HDMI box for audiophile use because of its compact size (2.5 inches by 2.5 inches) and simple I/O layout. It basically fits in line and could hang with all the other cables without needing shelf space.
Like the others, lab measurements showed that the KanexPro passed 24-bit stereo audio perfectly. All my high-res audio samples from the 2L Blu-ray, the Hotel California DVD-A, as well as HD Tracks downloads (and my home studio recording of acoustic and jazz guitar) sounded brilliant as they passed transparently from the Oppo through the de-embedder to the Benchmark DAC2 HGC. The KanexPro HAECOAX locked on quickly to the digital signals and worked without a hitch. On the bench, measurements showed its transparency in transmitting the full-resolution PCM.
For my audiophile stereo HDMI audio tasks, I really liked the KanexPro HAECOAX. It is a simple HDMI-in, with TOSLInk and RCA coaxial outputs — with a pass-through HDMI jack. Minimalist and effective, it is $65 on the street through various accessories dealers, such as B and H and Markertek.
Retail Price: $279 ( as low as $184)
Where To Buy: Amazon, B and H Photo
The made-in-Tawain HD570 is a full-featured de-embedder with more inputs/outputs than the KanexPro. It may be overkill for the audiophile hi-res listener, but I included the de-embedder because it is a solid piece and readily available via numerous dealers. The unit features four HDMI inputs, an HDMI pass-through and 7.1 surround audio via four mini-jack, 1/8-inch analog outputs — two channels per jack.
The HD570's major downside is its single TOSLink digital SPDIF output, which limits its usefulness for audiophiles who don't have a TOSLink connector on their DAC or other device. Also, TOSLink also does not always support 192 kHz sampling rates. Most of the other de-embedders on the market have both SPDIF and TOSLink. I ended up having to buy an extra box that converted TOSLink SPDIF-to RCA SPDIF in order to use it with one my older DACs.
Even with the limited-to-TOSLink output, the Atlona HD570 performed satisfactorily as an HDMI-to-SPDIF converter, passing the Oppo-derived 24/192 signals to the Benchmark DAC via a TOSLink cable and SPDIF adapter. The onboard converter's A/D wasn't bad for a little box, but it definitely was not full res. The 1/8th-inch mini-jack 7.1 channel outputs are kind of funky to use with a receiver or preamp, which always have RCA inputs. You need four 1/8th-inch-to-RCA adapter cables or plug-in adapters to make it all work.
Much better is the now-defunct, Atlona HD577 that I got in for testing a year ago, which is essentially an upgraded HD570 — with the additional SPDIF RCA digital output and 7.1 RCA analog outputs — no mini-jacks. It is housed in a bigger frame to accommodate the larger cables. And though it cost more, I preferred the HD577's RCA SPDIF, more stable size footprint and its locking DC adapter barrel. Alas, though, the company stopped making it a few months ago. That always happens to things that I like.
The verdict
In my small sampling of the HDMI de-embedders for hi-res audio use, they were all pretty good, converting the Oppo's HDMI PCM signals to SPDIF output — without degrading the signal. Since I was really focused on the stereo SPDIF output and not the de-embedder's onboard analog outputs or extra HDMI inputs, I was more drawn to the KanexPro HAECOAX for its audiophile simplicity. It is compact, robustly built, contains both TOSLink and RCA SPDIF outputs — as well as the single-HDMI input and pass-through.
And most importantly, it converts, transparently, two-channel 24-bit, up-to 192 kHz audio from any player that passes it through the HDMI, including the mighty Oppo. To be fair, the other de-embedders passed audio transparently, but I preferred the KanexPro HAECOAX because of its non-obtrusive, compact size and sturdy feel. Plus, it synchronized a touch quicker than the others and always stayed locked in the presence of the HDMI signal. The $65 street price tag was welcome as well. Of the four HDMI de-embedders, the KanexPro HAECOAX also gets my nod for the Stellar Sound Award.
It should be noted that there are a number of the HDMI de-embedders on the market, so if you can't find one of these, other options are available. Just make sure they pass the 192 kHz sampling rate. I found one that was limited to 48 kHz in its specifications.
©Articles on this site are the copyright of the Everything Audio Network.
Any unauthorized use, via print or Internet, without written permission is prohibited.