Brevis...
Price: $699 retail
Likes: smooth treble, rich midrange
Dislikes: proprietary cable connector
Wow Factor: snazzy look, smooth sonics
by John Gatski
Over the past few years, Audeze has made a name for itself in the hi-fi headphone community. Using planar magnetic ribbon technology, their high-end phones have garnered critical praise, and now their mid-priced HPs, the EL-8, is making some noise as well.
Priced at $699, the EL8 is the company's entry hi-fi headphone. The LCD Series, such as the LCD-3, range in price from $995 to $1,945. The entry-point EL-8, besides costing less is a versatile headphone that can work with not only high-end headphone amps, but also portable audio players, including the proliferating hi-res player. As a result the EL-8 is more compact and lighter weight than its costlier siblings.
The EL-8's key design feature is the planar magnetic driver, which offers a smooth, even response — without peakiness in the treble. Planar magnetic speakers and headphones also project a wide and deep sense of space that is perfect for headphone listening.
Features
Planar magnetic design has been around for about 40 years. It is basically a hybrid design utilizing the principle of magnetic speaker design and electromagnetics. Like a dynamic headphone — with their standard magnet drivers — planar magnetic headphones use a magnetic field that surrounds a conductor, which has an electrical current flowing through it to drive the speaker diaphragm. Like an electrostatic driver, PM designs utilize a diaphragm consisting of a thin sheet of flexible transparent film. Additionally, the PM differs from the electrostatic by using thin, flat electrical conductors to charge the diaphragm. In my opinion, t
he proper implementation of planar magnetic technology in headphone creates an audio texture similar to what i hear in top-class, ribbon speakers and ribbon microphones: a smooth treble, rich midrange and good bass, combined with a spacious stereo image.
The Audeze is a very good sounding, entry point, planar magnetic headphone that can be used as a HQ headphone for portable players, smartphones, tablets, etc., but also it fits right in as a budget audiophile set of 'phones.
The EL-8 is an open, circumaural-type stereo PM headphone with individually adjustable ear pieces. Unlike other PM 'phones I have auditioned, the EL-8 is not heavy, weighing in at 460 grams. The ear pads are plush and soft, as is the headband. Quite a comfortable 'phone. The EL-8 comes standard with proprietary flat cables with a four-conductor end that slides into each ear piece. The device end terminates into a standard 1/8th-inch stereo plug; a 1/4-inch adapter is included. Optional cables are available for iPhone, Astell & Kern, Pono and Sony PHA-3 player are available.
The drivers are planar magnetic utilizing Fluxor™ technology neodymium magnetics. Each driver measures 100 mm. Factory specs include a 10Hz-50kHz frequency response, no tolerance listed; 101 dB/1-mW efficiency, and a maximum level of 130dB. Maximum power handling is listed at 15 watts (very short duration of 200 m/sec), but a suggested range is 200 mW to 4 watts. The impedance is 30 ohms.
According to Audeze, several innovations contribute to the EL-8's sound quality:
•Patent-pending Fazor technology, introduced in the LCD Collection, are special acoustical elements positioned on either side of the magnetic structure in each transducer that enhance transparency by influencing sound waves generated by large planar diaphragms. Benefits include extended frequency response, improved high-frequency extension, better phase response, and lowered distortion resulting in more realistic imaging.
•Fluxor™ Magnetic Structure —
With new, patent-pending Fluxor magnetic technology, introduced in the EL-8, Audeze delivers nearly double the magnetic flux density or driving power of the highest-grade neodymium magnets. This achievement is said to result in
reduced weight with greater efficiency to play easily with mobile devices.
•Uniforce™ Diaphragms —
The EL-8's patent-pending Uniforce diaphragm features variable trace widths on the voice-coil that captures variations in the magnetic field in the gaps between the magnets thus equalizing the force of individual traces. This
creates a uniform driving force across the diaphragm surface for dramatically reduced distortion, higher resolution and improved imaging.
The snazzy, modern-shape aesthetic of the Audeze EL-8 headphone was done by BMW Designworks USA. And they did their job well. This is one of the best looking headphones that I have seen in a while.
The setup
I tested the EL-8 with several headphone amp/DACs, two standalone analog headphone amps and four portable hi-res players. Music ranged from Pop to Rock and Classical and Jazz. Equipment included Oppo HA-1 headphone amp/DAC,

Benchmark DAC 2-DX

HP amp/DAC, Mytek Manhattan DAC/HP amp, and the portable Resonessence Concero HP amp/DAC. The standalone, non-DAC units included Rogue Audio's new

RP-5

tube audiophile preamp and the Bryston BHA-1 class-A headphone amp. Source music included hi-res downloads from HDTracks, Acoustic Sounds, my own hi-res recordings and some premium vinyl, which was played through a Clearaudio turntable, and the Rogue Audio RP 5 phono pre and the preamp's built-in headphone amp.
All components were linked through Wireworld line-level interconnects. Headphones included the EL-8, Sony MDR0-7510, AKG K702 Anniversary,

Shure SRH-1840

,

Oppo PM-1

and PM-2 planar magnetic headphones.
Portable hi-res DAC/player iBasso DX-90 and EL-8
Before I did any serious listening, I let the EL-8's stew for a four day break-in with moderate level music and test tones run through the headset. Then it was time to seriously listen to these headphones.
First up was a lengthy session with the EL-8s and the Benchmark DAC-2 DX, the successor to the DAC-2D (adds AES/EBU connection). Fed from an Oppo BDP-105 line out to the Benchmark's line-in, I first auditioned the direct-to-DSD recording Anthony Wilson Trio - Our Gang (Groovenote SACD). The warm jazz guitar/Hammond organ/drum kit's aural presentation has a detailed image with good spacing of the three instruments.
The EL-8s relayed the album with a velvety richness in the guitar and organ, with a smooth, laid-back percussion character. Compared to the AKG-K702 Anniversary, the top end is not as bright, which I expected as the AKG is a conventional driver headphone.
The EL-8 does brings the sound closer to the ear without the audio sounding exaggerated. Although it costs $500 more than the EL-8, I compared the Audeze to the Oppo PM-1 planar magnetic headphone. There is a somewhat similar richness in the midrange, but the PM-1 (and its $899 sibling PM-2) sounded a bit brighter in the top-end.
Sponsored Link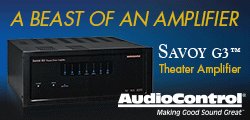 Audiophile Grade A/V Multichannel
Switching to Classical music, this is where I think the EL-8s really showed their character. On Janos Starker — Bach's Complete Cello Suites (Mercury Living Presence SACD), the vibrant, gorgeous cello tone from Mr. Starker was firmly out in front. Similarly, Jascha Heifetz's RCA Red Seal recording of Brahms Violin Concerto was showcased in a strong presentation of the master's rich, Stradivarius tone. These budget PM headphones really do shine on Classical and Acoustic music.
On Pop and Rock music, the EL-8 has a smooth character and does not go crazy with bass boost that many headphones are engineered with these days. Again, the top end is not as bright as some of my conventional driver headphones, but on some types of music that is a welcome attribute, as modern Pop often is overly bright.
On the high end DAC/HP combos and the audiophile HP amps, my conclusions were pretty consistent. Since the EL-8 is targeted to portable devices, I plugged into several hi-res portable players including the Astell & Kern Kern AK-100 and iBasso DX-90 and the TASCAM HA-P90SD, as well as the

Oppo HA-2

portable DAC HP/amp HTC android phone player.
The EL-8's good looks, courtesy of BMW Designworks USA
As with the audiophile gear, the EL-8 matched up well with the portables. Despite the phone's low impedance, all the devices could adequately drive the Audeze to loud levels without audible clipping.
Pairing the EL-8 and the iBasso DX-90 portable, with its ESS Sabre mobile DAC chip set, I heard a nice, detailed, rich soundscape with that aforementioned close-up focus on the midrange that I had heard through audiophile gear. The EL-8 does not have the high-end finesse of the upper end Audeze or the $1,200 Oppo PM-1, but then again it's at a much lower price-point and positioning than those premium 'phones. For the bucks, it's mighty good and very comfortable. As a portable package, it was not a hard decision to pack the EL-8 and a portable player for a day at the beach.
The verdict
The Audeze is a very good sounding, entry point, planar magnetic headphone that can be used as a HQ headphone for portable players, smartphones, tablets, etc., but also it fits right in as a budget audiophile set of 'phones. Easy to drive, comfy, available with various cable options and can be ordered as a closed-back for a bit more isolation or as the open headphone tested here. Overall, it earns the Everything Audio Network Stellar Sound Award.
John Gatski has been evaluating consumer, audiophile, home cinema and professional audio gear since 1992. In 1995, he created Pro Audio Review, and he has written for Audio, Laserviews, Enjoy The Music, The Audiophile Voice and High Performance Review. Everything Audio Network is based in Kensington, Md. Articles on this site are the copyright of the ©Everything Audio Network. Any unauthorized use, via print or Internet, without written permission is prohibited. John Gatski can be reached via

everything.audio@verizon.net